Hall & Associates Prostheticare Ocular Custom Services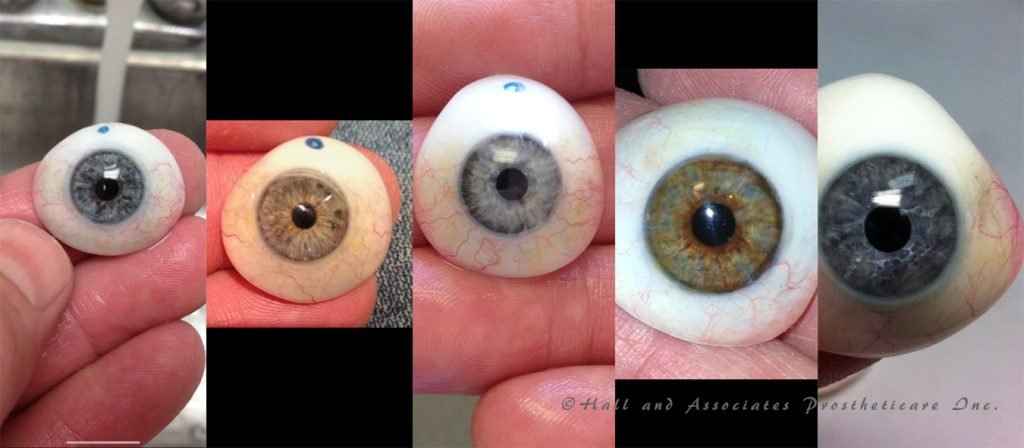 At Hall and Associates our goal is to fit the best custom ocular device to meet your highest expectations. This process typically takes 3 appointments over 2 days. We would like to assure you that the entire process is comfortable and surprisingly easy.
The Artificial Eye Process
First Appointment
On the day of your first appointment we will commence the custom fitting with an alginate impression. We will also hand paint and replicate your "iris corneal" piece matching every detail to your good eye.
Second Appointment
The second appointment is for what we call the "trial fitting". This step allows us to assure the highest level of comfort and evaluate the shape and achieve the most natural eye movements possible.
Third Appointment
During the third and final appointment we match all final colour details with reference to the "white (sclera) and blood vessels". We apply an "overpaint" to the iris base colour for a heightened 3 dimensional effect. Then the final clear acrylic is processed and the final polishing is completed. We are then ready to deliver your new ocular device.
Please note that we can combine either the first and second or the second and third appointments in one visit.
Polishing or Reglazing
It is recommended that you return every 6 months to examine your globe/orbit to be sure everything is healthy. We also re-evaluate the fitting and size of your ocular device and also polish and reglaze all surfaces to remove any fine scratches and protein deposits that naturally build up. This office visit take just 30 minutes.
Ocular Prosthetic Research and Development
At Hall & Associates Prostheticare Inc, we are always continuing to explore and evaluate all new technologies and developments as they relate to the Field of Ocularistry.
Darren Hall, BCO was the first and only Canadian Ocularist to train in Philadelphia and hold a license to provide the patented procedure of the SLP, Self Lubricating Prosthesis.
Darren Hall, BCO was also the first and only Canadian Ocularist to train in Memphis, Tennessee, in the manufacture of the trademarked soft "FlexiGlass" ocular prosthesis.

Darren Hall, BCO has fitted 100's of "pegged" custom artificial eyes. Since FDA approval of the Bio-EyeTM in the early 1990's in Canada I have continually worked closely with and communicate on a regular basis with local ophthalmic surgeons in the Toronto area. Dr. Art Perry (link) of San Diego, California invented the Bio-EyeTM orbital implant.
The Bio-EyeTM is our "implant of choice" over all other porous implants and pegging systems. With great surgical placement and optimal custom fitting and "coupling" with the ocular prosthesis the Bio-EyeTM offers unparalleled results. As with any "implant" a complication may arise but with proper care and follow up these are minimal and most often resolvable.
Darren Hall, BCO also works closely with John Stolpe, BCO, president of Advanced Artificial Eyes in California.
John Stolpe, BCO (link) has patented the "dilating pupil" that can be incorporated into your custom ocular prosthesis or scleral cover shell.

Our Canadian Government does not invest any money in the research and development to better advance the Field of Ocularistry. Hall and Associates Prostheticare Inc. continues to invest time and money in the quest to advance, improve and benefit clients that require our services.